Investing in Domain Names 101
Posted 04-15-2021, 01:46 PM
Introduction



What is Domain Name Investing? Simply, It is the act of investing in certain domain names in the hope of making a future return. Domain investing is similar to investing in land or vehicles. The only difference - Domain names are a digital asset, however, the fundamental principals of investing are the same. Put in other words, Domains are the real estate of the internet.

I have been following and studying domaining for a very long time. Over the years, I've learned a lot and made plenty of stupid mistakes. The main reason why I decided to write this thread is that I want to share the knowledge I've gained over the years and provide some value to the community & further because there are a lot of misconceptions when it comes to getting started with domaining. Hopefully, this thread will give you a solid understanding of domaining and how to become a successful domain name investor.

If you have any questions, please leave a reply on this thread and I will answer them. Please avoid private messaging me.



---




The History of Domain Names




Today there are more than 350 million domain names registered by businesses & individuals across the world. Rewind to the 80s, this was not the case. Only six registered domains were recorded during 1985. We have come a long way since 1985 and considering that the internet as a whole is still in its very early stages, domain names will only go up in value which is why domaining is a highly lucrative investment strategy if done correctly.

Symbolics.com - Symbolics Inc. purchased the worlds very first .COM domain on March 15, 1985. The website is still up and running as of June 2020. Check it out




The ICANN



ICANN, which stands for Internet Corporation for Assigned Names and Numbers, is a non-profit organization that was established in the United States in 1998 to help maintain the security of the Internet, and allow it to be usable by all. Anytime you register a domain on the Internet, you go through a domain name registrar, who pays a small fee to ICANN to register your domain as part of the domain registration process.

(Via domain.com)






Some of the most expensive domain names sold.



To intrigue, you more into domaining a bit more and to show you just how much people are ready to invest in good domain names, here is a list of the most expensive domain names sold during 2005-2010.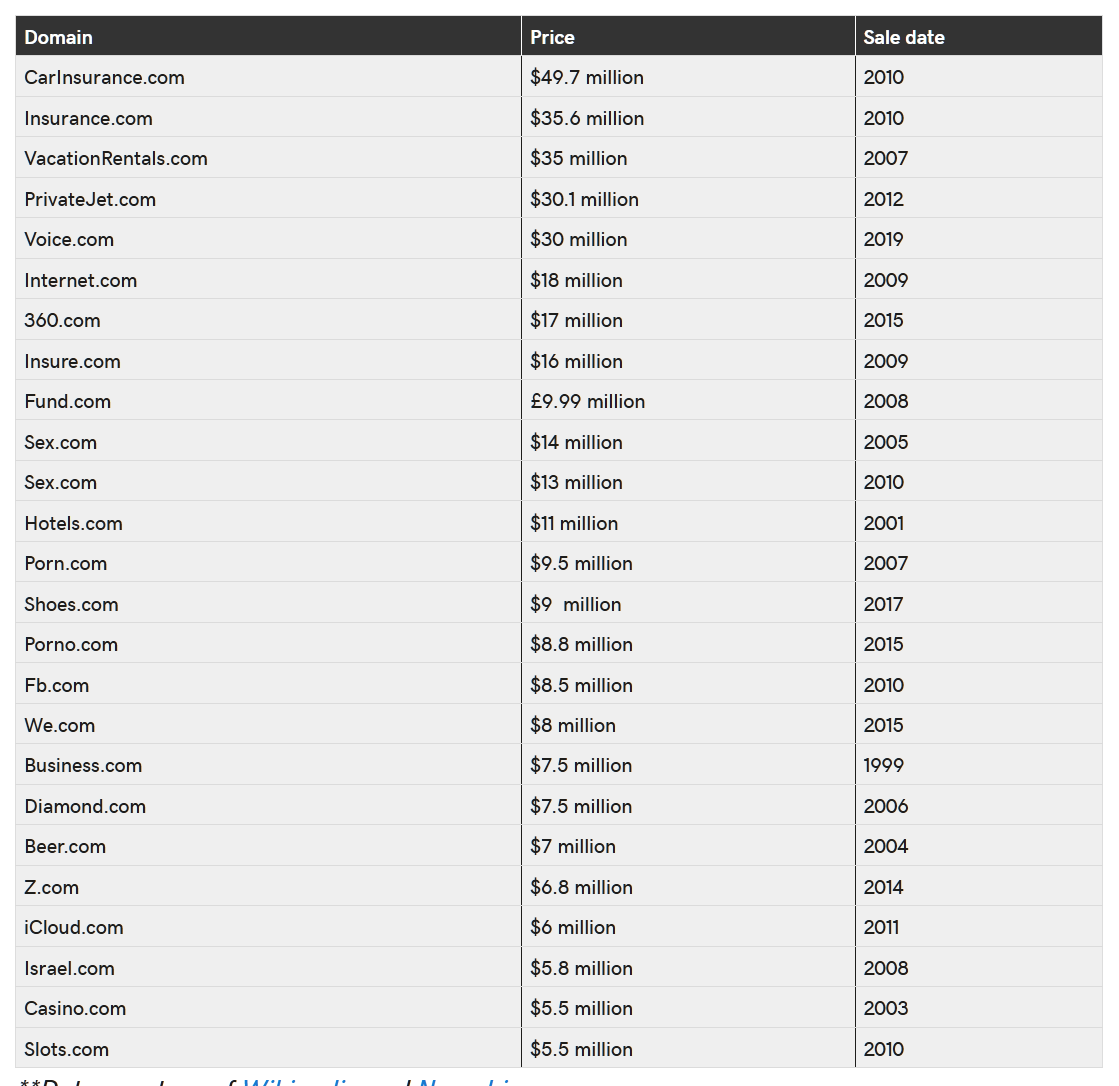 ---



So why should you invest in domains?



Many single-word domains have been purchased years ago. This makes such domains extremely rare and when one or two of these premium domains pops up for sale each year, companies wanting to buy that specific domain for years will have no second thoughts in bidding for it starting at six figures. The value of these types of domains will always grow with time.
The internet is still very much in its early stage. With more and more businesses and entire industries becoming digitalized, It is safe to assume that domains too will exist as long the internet exists. It is estimated by research that the E-Commerce industry is set to break the $4.5 Trillion mark by 2021.
If you have a great domain name that gets millions of views each day, you could easily earn a reasonable amount by just placing ads on a website and redirecting your domain to that site. This is known as cash parking and many "Squatters" - (People who buy domains and hold on to them for years or "Squatting" on them tell they find a potential buyer and make a large profit) do this. The best example for this was the people who purchased domains in the "Porn" industry and had affiliate links on their sites to other porn sites.
Unlike traditional investments like real estate, the overall maintenance cost of holding domains is considerably cheap. The only two costs you will encounter are the initial purchase of the domain ( including the transfer fee) and the annual renewal of the domain. This makes domain investing a relatively safe form of investment if you have invested in the right type of domain.


---



How to Invest in Domain Names




Before purchasing your first domain, you have to be familiar with several types of domain and how they can be a profitable investment.




Standard Domains



These are generic names that portray a product or service.

Eg: Videoediting.com (Describes the service).

Investing in these types of domains will also allow you (in some cases) to be the authority figure in your niche. Example, if you own the domain Drone.com, You basically have an extremely valuable asset because your name is the same as the entire industry. More examples for this would be Casino.com, Travel.com, Business.com.

GEO Domains
As the name suggests, these are domains based on a specific geographical area.

Eg: NewYorkPizza.com (Location + Service)

Eg: BrooklynWoodwork.com (Location + Service)

These domains are great because they can be sold for local businesses in your area.

Business Domains
This is when you invest in a domain with a name of that of a new business.

There are many people who are against this type of investment, but this is one you should know about.

If you stay sharp and keep your eyes open, you might be able to make a good profit with this type of investment.

---

This is the very basic level of domain investing. There are many more factors that affect the value of a domain name. I suggest you read all the articles below after reading this thread.
These are the main types of domains you will find out there. Buying a domain is very easy. Follow this article which takes you through each step in the process of buying a domain.

https://www.hostinger.com/tutorials/how-...omain-name


---



Domain Name Appraisal




If you ever want to know (You should - ideally before purchase) how much your domain is worth, you can perform a domain name appraisal. There are many tools online that appraise your domain based on a number of factors. Please note that these are just estimates and should on be taken with a grain of salt, once you have some experience, you will be able to appraise your own domain. Until then, stick to the free tools.




Domain Appraisal Tools:



https://sg.godaddy.com/domain-value-appraisal
http://www.estibot.com/
http://www.valuate.com/
http://appraise.epik.com/


---



Selling your domain




When the day comes that you decide to sell your domain, you should advertise your domain on popular domain markets in order to find a potential buyer. Here are some of the most trusted markets in which you could sell your domain.

https://sedo.com/us/
https://sg.godaddy.com/ (Auction - Need to pay for this service)
https://www.flippa.com/


---
Additional Resources for Beginner Domain Investors
How to buy expired domain names
How to transfer a Domain
How to Secure a Domain
Domain Registrars
---

Thank you for reading this thread. I hope I was able to educate you on the subject of domain name investing. If you have any issues, feel free to drop a reply below and I will do my best to help you out. Take care. Happy Domaining!

- Bond.